Garde-robe: Lazy Afternoon at Home / The Dressing Room #175: A Splash (Or Two) Of Color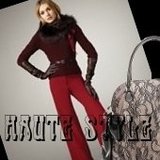 Congratulations magda_ooo on your Garde-robe win! I agree your choice for this week's challenge is a refreshing change of pace. I hope you don't mind that I did a combo look. Like our friend binky, I need to catch up and I thought these challenges fit together perfectly. I love this room and thought it would be a great place to curl up, read a good book, pig out on some chocolate cake, and maybe give myself a manicure!

And thank you Malibu Queen for another great inspiration room. I'd really enjoy having a spot like this in my house and am seriously thinking about going with this type of look next time I redecorate!